Fostering Dryland Research in West/Central Africa: CERAAS
On May 20, 2005, delegates participating in CORAF/WECARD's Sixth General Assembly also enjoyed a visit to a unique regional organization focused on the dry areas: CERAAS (Centre d'Etude Régional pour l'Amélioration de l'Adaptation ŕ la Sécheresse/Regional Center for Studies on the Improvement of Plant Adaptation to Drought). CERAAS is located in Thies, about 70 km east of Dakar, Senegal. Dr. Saidou Koala, DMP Global Coordinator and Dr Ramadjita Tabo, DMP Regional Coordinator for WCA participated in the visit, which provided an opportunity to become acquainted with CERAAS' staff and research facilities, and discuss collaboration.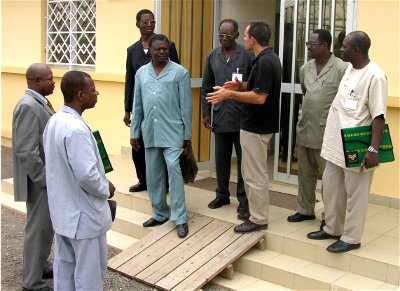 Capacities
The visitors noted that CERAAS has excellent biotechnology and physiology laboratories, greenhouses for drought studies, and computer, modeling, biometrics and information capacities.
Areas of focus and priority
CERAAS' Director, Dr Dogo Seck and his Scientific Director, Dr Serge Braconnier presented CERAAS' organization and research activities. CERAAS focuses on five mandate crops including sorghum, millet, groundnut, cowpea, and sesame. It also works on other crops through its crop diversification and natural resource management theme. CERAAS also trains scientific staff for postgraduate degrees. A priority now is to diversify partnership, particularly with other regional and international organizations. [Photo: Dr. Braconnier discusses with NARS leaders from Burkina Faso, Chad, Mali and Niger]
Collaboration opportunities
A round table discussion followed the presentations. Each visitor indicated potential areas of collaboration between their institution and CERAAS. Dr. Seck encouraged the NARS (National Agricultural Research System) Directors to consider posting their staff at CERAAS, strengthening regional collaboration while taking advantage of CERAAS' excellent facilities.
The visitors were appreciative of the tour and felt that there is great potential for collaboration between CERAAS, the NARS, and international research centers. The visitors recommended that CERAAS increase its visibility by communicating its activities more widely.
Return to On the Edge table of contents