Tabo Elevated by ICRISAT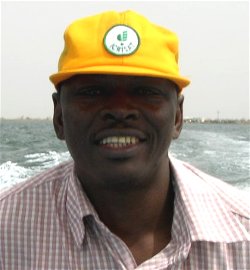 We are delighted to announce that DMP West/Central Africa (WCA) Coordinator Dr. Ramadjita Tabo now has an additional responsibility as ICRISAT's WCA Deputy Regional Director. This new role, assigned by Director General Dr. William Dar, will facilitate an even closer integration of DMP and ICRISAT activities, including fundraising and partnership-building.
Dr. Tabo, who hails from Chad, received his Ph.D. in Agronomy and Plant Genetics in 1985 from the University of Arizona, USA. He has worked for ICRISAT since 1986 as Agronomist focusing on West and Central Africa. He has long experience on topics such as the application of simulation modeling, decision-support systems and computers in crop management and for training; integrated farming systems research; sorghum and millet-based cropping systems; on-farm trial organization and management; and best-bet testing approaches.
His career has been characterized by strength in partnership-building and multi-partner project development and management—the DMP being a prime example. His fluency in both French and English has been a strong asset in building West/Central Africa partnerships.
Congrats, Ramadjita!
Return to On the Edge table of contents