Being FIRM about Community Leadership
What is FIRM, and why?
'Think global, act local' has become a slogan that, like so many others, belies the complexity—and richness—of the process that it zips into a sound bite.
All too often in the past, strong global organizations have attempted to impress solutions on local communities regardless of their interest (or lack of). Local action must be carried out by local actors if it is to be sustainable. They need to be in the driver's seat, determining what they want, and committing to follow it through.
FIRM (Forum for Integrated Resource Management) is shorthand for an approach that puts rural communities in charge of their own development. A Community-Based Organization (CBO) organizes, plans and monitors development activities while coordinating the interventions of others, called 'service providers' (SO). SOs may be traditional authorities, government extension services, non-governmental organizations (NGOs) or project teams.
The FIRM approach can take many institutional forms, but all include these key elements:
A community-based structure to take the lead (CBO);

An annual planning meeting organized by the CBO, inviting and involving service organisations (SO);

At least half-yearly, a review/monitoring and evaluation meeting (called by the CBO) including SOs to ensure accountability on all sides; and

Making use of Local Level Monitoring (coordinated by the FIRM) through the CBO and other feedback coming from partners and SOs to make course corrections.
Origin of FIRM
The FIRM approach was established and piloted in the Grootberg area, Kunene region of Namibia when, at independence the government ceded a livestock extension facility to the Grootberg Farmers' Association. Based on the same foundation, the Khoadi/Hoas Conservancy was established in the following years. Four donor-funded projects came together to see how the 'boundaries' of the projects could be removed and integrated support could be provided at the request of and coordinated by the local community.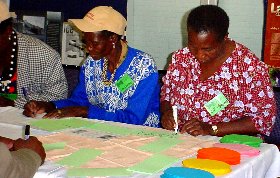 This first FIRM eventually coordinated service provision by a variety of government and non-government bodies; wrote its own proposals for funding; established a Women's Desk; undertook integrated land-use planning; and implemented sustainable resource management plans at the local level. Community members undertook exchange visits and participated in various national and international gatherings focused on sustainable resource use.
Other case studies
In Onkani (covering parts of Omusati and Oshana regions in central-northern Namibia), the FIRM is synonymous with the Oike, a local farmers association. Their service providers include the Ministry of Agriculture, Water and Forestry extension services, NGOs such as Desert Research Foundation of Namibia (DRFN), Rössing Foundation, Namibia's Community-Based Tourism Association (Nacobta), and the private sector. The FIRM approach puts them in a position to coordinate research projects from various origins, and put the resulting information to good use. Oike has arranged Farmers' Days inviting a wide variety of partners, including regional councilors and governors, and has their full recognition and support.
In the Gibeon area in Hardap region the FIRM approach has taken a different path. Several smaller projects associated with different communities come together on issues of integrated land use planning and sustainable natural resource management. Nico Noord is the home of the Gründoring Cooperative, a community campsite, a Sardep site and is used by the international research programme Biota as an environmental observatory. Tsub Gaus is developing a community campsite and participated in Sardep as well. Oskop is a conservancy that is being implemented with support from Namibia Development Trust. At Hoachanas, the local farmers' association is rehabilitating land and initiating sustainable resource management. All of these smaller communities undertake annual planning together, and review and set the agenda for coordination of their own development.
More recently, the Napcod-associated Desert Margins Project (GEF), working with the CBNRM programme (USAID) in the area, has helped to establish the FIRM approach to enhance coordination by Village Development Committees (VDCs), a structure of the regional government in Otjozondjupa and Omaheke regions (eastern Namibia). Working with the VDCs, the DMP (through the DRNF) & CBNRM (through Namibia Nature Foundation) projects are enhancing the VDCs' capacity to conduct land-use planning and implement sustainable resource management.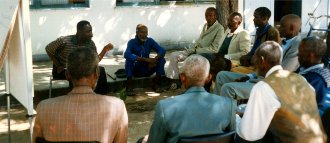 In yet another example, the FIRM approach is being used to enhance Kuiseb river basin management, piloted by the Environmental Learning and Action with EU funding in partnership with MAWF. In this instance the 'community' represents all those living in the Kuiseb river basin – commercial and communal farmers, the municipality of Walvis Bay, and the Namib-Naukluft Park of MET. They have formed a Basin Management Committee (BMC) (essentially a FIRM) to help them plan, coordinate and review inputs from service providers. Although not identical to grass-roots level FIRMs, the BMC helps the community play a leading role in their own development.
Growth ahead
The FIRM approach continues to expand in Namibia and neighboring countries. As part of the Oshikoto Livestock Development Project, the local FIRM organised a very successful auction in May 2005 as a first step towards more sustainable livestock management. The Directorate of Extension and Engineering Services supported this project and now FIRMs are being established in all nine Agricultural Development Centres of this region.
Most recently, in June 2005, training in FIRM and Local Level Monitoring was provided at the Gobabeb Training and Research Centre to Botswana representatives of the DMP. During the same week, representatives from Botswana, South Africa and Namibia planned the implementation of the FIRM approach in three ephemeral basins in the three countries.
The flexibility and applicability of the FIRM approach seems to be catching on and spreading in southern Africa.
Return to On the Edge table of contents