First DMP Steering Committee Meeting, Niamey 2003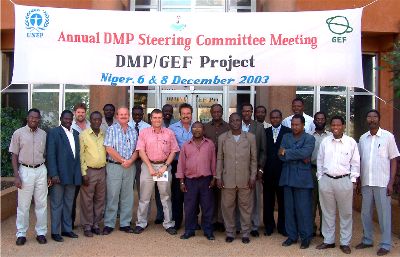 The DMP's first Steering Committee Meeting in the GEF/UNEP-supported era took place from 6 to 8 December, 2003 at ICRISAT near Niamey, Niger. The 21 participants included 14 members and seven observers. Members included the nine national coordinators, the global coordinator, one representative each from UNEP, UNDP, ICRISAT and one from the other international centers. Observers included the two DMP sub-regional coordinators (West/Central Africa and Southern/Eastern Africa).
Agenda
The agenda focused on reviewing the activities of the DMP Coordination Unit and research activities; financial and reporting systems; program of work and budget; initiatives and projects in the pipeline; plans for Phase II; and operational matters including training, technical committees, and public awareness.
The DMP global coordinator Dr. Saidou Koala and Dr. Mohamed Sessay of UNEP presented overviews and updated the group on related initiatives and proposals in the pipeline. Each national coordinator reported on work and plans in their country. Sub-regional coordinators also presented synthesis reports for their domains.
Partnerships, roles and DMP culture
The need for clear delineations of responsibility from the beginning of the project was emphasized. This will avoid misunderstandings over who did what. The roles of different partners including farmers must be recognized. An atmosphere of trust among partners should be encouraged, rather than complex written arrangements. Close working relationships in all stages—planning, implementation, monitoring and evaluation—along with the sharing of results, will foster this trust and collegiality.
The role and funding of international institutions was clarified. These institutions provide services in support to the countries; they do not implement the in-country work agenda. Services include things such as training and the development of guidelines, approaches, methodologies etc. Countries should identify needs and gaps of this type and request services from the relevant international institute using DMP funds.
The role of regional bodies (SADC, ASARECA, CORAF) was also clarified. While they are listed as DMP partners, such bodies provide the overall framework for DMP action; they do not involve themselves in the details of DMP's program execution. DMP should ensure that its strategies and plans fit within these frameworks.
Reviews and reporting
Dr. Sessay explained that a mid-term review of the project would be carried in 2004. The approval of a Phase II was dependent on a favorable review of the first Phase so this is a critical event. He explained the preparations that needed to occur including comprehensive reports on the baseline characterization of benchmark sites and the inventory of endemic and endangered species.
Dr. Sessay pointed out the need for more complete reports to UNEP from certain countries; reference to ecosystem resilience and sustainability issues in the reports; more field activity reporting compared to desk activity reporting; bringing out what is important rather than merely presenting masses of data; and channeling technical progress reports through the sub-regional and global coordinators.
Future semi-annual reports should adopt the format used by Namibia, which follows the DMP logical framework in tabular format and is short and concise. The Coordination Unit will standardize this format and send it to all member countries.
The standardization of data collection methods was discussed. Not all types of data could be standardized, the group concluded, although items such as defining degrees of land degradation, soil nutrients, target populations, biomass and carrying capacities needed to be standardized.
The revised Program of Work and Budget for Phase I should be submitted using the provided format.
Knowledge-sharing and public awareness
The importance of sharing lessons learned between countries was discussed. Exchanges of scientists between countries for this purpose was recommended and funding for this has been made available to countries.
Proposals for a DMP logo were discussed; the ideas from South Africa and Senegal will be merged and circulated for approval.
Plans for a bi-monthly newsletter, a DMP website and DMP e-mailing lists were approved.
Other decisions and recommendations
To start off, a small group consisting of the Global Coordinator and the two sub-regional Coordinators was established as the Standing Technical Committee. It will work out the modalities for enlarging the group later.
Training needs should be clearly and quickly expressed; they will be met on a first-come, first-serve basis. Both the Coordination Unit and countries have training funds.
Namibia graciously offered to host the next Steering Committee Meeting.