GEF/UNEP Phase I Launched
A great leap forward!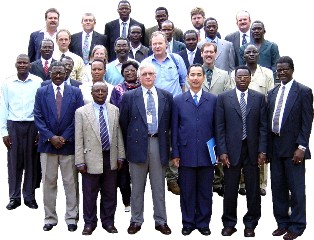 The Desert Margins Program stepped up to a whole new level on 11 November 2002 with the launch of GEF/UNEP-supported Phase I in Nairobi. The launch meeting participants are shown to the right.
The new project now has the resources and partnerships it needs to become a leading force in identifying the key causes of land degradation and damage across Africa's drylands, and formulating action plans for arresting and reversing that decline. It concentrates in particular on safeguarding biodiversity, developing alternative livelihoods, and offsetting some of the factors causing global warming.
At the launch, ICRISAT Director General Dr. William Dar emphasized the urgency of the issue. He noted that "120 million inhabitants depend heavily on rainfed agriculture and natural rangelands for their survival. Yet these lands and livelihoods are at risk from climatic, environmental and human factors".
The union of local knowledge with modern land management techniques is central to the DMP strategy. The project benefits from five years of pilot work investigating the causes of land degradation and desertification through the participation of local communities and governments. In the process, the DMP identified valuable ways to facilitate local and national action planning.
GEF's support
The Global Environment Facility (GEF) adds incremental support to commitments by partners towards sustainable, environmentally-friendly development. GEF's increment supports the generation of global environmental benefits such as the conservation of biodiversity and the mitigation of global warming. GEF funds are deployed through Implementing Agencies. The implementing agency for the DMP is the United Nations Environment Programme (UNEP). Implementing agencies in turn engage Executing Agencies to get the work done on the ground. ICRISAT is the executing agency for the DMP.
For the new DMP project, GEF will provide US$ 16 million over six years (2002-2008) on top of the pledged commitments of $15 million from the nine participating African governments, plus $19 million committed by other partners including five CGIAR Centers, three other international partners several NGOs and a number of additional development investors. See the full list of DMP partners here.