DMP Ardent Friend and Supporter Gains top Position in Convention on Biological Diversity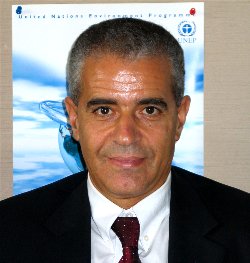 June 21, 2005: We are delighted to learn that Mr. Ahmed Djoghlaf of Algeria (photo) is to become the next Executive Secretary of the Convention on Biological Diversity (CBD). Mr. Djoghlaf, through his current position as Director of the United Nations Environment Programme (UNEP)'s Division of Global Environment Facility Coordination based in Nairobi, Kenya, has been a solid supporter of the DMP throughout its existence. Given the DMP's strong emphasis on biodiversity conservation, we look forward to a continued close and positive relationship with Mr. Djoghlaf in his lofty new position.
Mr. Djoghlaf, who will take over from Hamdallah Zedan of Egypt, has extensive experience in environmental issues, biodiversity and multilateral organizations. Mr. Djoghlaf was pivotal in raising UNEPís position and activities within the important multi-billion dollar GEF fund.
Mr. Djoghlaf is not new to the CBD. Before joining UNEP, he held several positions at CBD including Acting Principal Officer on intergovernmental issues and cooperative arrangements at the CBD Secretariat. Here he was in charge of major global meetings including the First and Second Conference of the Parties. In 1994 he was Special Adviser to the Executive Secretary of CBD in charge of the preparations for the First Conference of the Parties held in Nassau, Bahamas.
Previous to this Mr Djoghlaf held a variety of important posts in the Government of Algeria.
Mr Djoghlaf holds a Ph.D. from the University of Nancy, France, as well as numerous other academic qualifications including Master of Arts, Government and Politics from St Johnís University, New York.
Klaus Toepfer, UNEPís Executive Director, said today: ĒIt will be a great loss for UNEP to see Ahmed Djoghlaf go. He has truly transformed our role within the Global Environment Facility and he will be sorely missed. But our loss is the CBDís gain. Mr Djoghlaf has the skills, the intellect and experience to take this important convention forward into the 21st centuryĒ.
More information about Mr. Djoghlaf is available at this page.